Are you a dessert lover with a sweet tooth? If so, then you are in the right place! There are plenty of delicious treats that you need to try, so let's explore some of the best desserts that are sure to satisfy your cravings. From the classic chocolate cake to the unique and comforting sticky date pudding, there's a dessert for everyone's taste. So go ahead and indulge in these sweet treats, you won't regret it!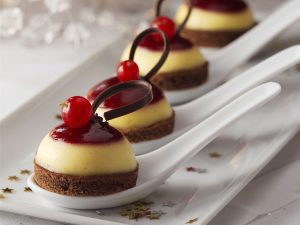 Vanilla Ice Cream
Vanilla ice cream is a classic dessert that has stood the test of time. With its creamy texture and sweet flavor, it's no wonder why this dessert is a favorite among many. Whether enjoyed on its own, topped with your favorite toppings, or used as the base for other desserts, vanilla ice cream is a dessert that never disappoints. In this article, we'll take a closer look at vanilla ice cream and explore different ways to enjoy this iconic dessert.
How to Make Homemade Vanilla Ice Cream
Homemade vanilla ice cream is a classic sweet treat that can be enjoyed any time of year. Making ice cream from scratch is easy with just a few basic ingredients and an electric ice cream maker. Here's a step-by-step guide to making delicious homemade vanilla ice cream.
Ingredients:
– 2 cups of heavy cream
– 1 cup of whole milk
– ¾ cup of sugar
– 1 tablespoon of vanilla extract
Equipment:
– Electric ice cream maker
– Measuring cups and spoons
– Large mixing bowl
– Whisk
– Saucepan
Instructions:
1. In a saucepan, combine the heavy cream, whole milk, and sugar.
2. Heat the mixture over medium heat, whisking until the sugar has dissolved.
3. Remove the saucepan from the heat and stir in the vanilla extract.
4. Pour the mixture into a large mixing bowl and set it aside to cool.
5. Once the mixture has reached room temperature, cover the bowl with plastic wrap and chill in the refrigerator for at least 2 hours or even overnight.
6. When the mixture is chilled, it's time to start making the ice cream. Take the bowl out of the refrigerator and pour the mixture into your electric ice cream maker.
7. Turn on the ice cream maker and let it churn for around 20-25 minutes or until the mixture has thickened and reached the consistency of ice cream.
8. Transfer the finished ice cream to a freezer-safe container and freeze for at least 2 hours or until it is firm.
And that's it! With just a few simple steps, you can make homemade vanilla ice cream that is rich, creamy, and delicious.
Fun Variations on Vanilla Ice Cream
Vanilla ice cream is a classic dessert that can become even more exciting with a few fun variations. Here are three ways to elevate your vanilla ice cream game:
1. Mix-ins Galore:
Vanilla ice cream is the perfect base for your favorite mix-ins. Try adding chopped nuts, crushed cookies, or candy bar pieces for a fun, crunchy texture. For a fruity twist, add fresh or frozen berries, diced mango, or sliced banana. Chocolate lovers can add chocolate chips, chocolate chunks, or even hot fudge sauce for a decadent treat.
2. Flavorful Toppings:
Toppings are the perfect way to add some extra flavor to your vanilla ice cream. Try drizzling on caramel sauce, chocolate sauce, or fruity syrups like raspberry or blueberry. For a healthy twist, top your ice cream with slices of fresh fruit like strawberries, peaches, or kiwi. And for a more indulgent dessert, sprinkle on some marshmallows, whipped cream, or even sprinkles!
3. Unique Flavor Combinations:
For a more complex and unique twist on vanilla ice cream, try infusing it with different flavors. You could add a tea bag or two to the cream mixture before heating it (earl grey or chai tea work well). Or try mixing in some cinnamon, nutmeg, or cardamom for a warm, spicy flavor. And for a boozy treat, add a splash of rum, whiskey, or Bailey's Irish Cream for a delicious adult dessert.
By adding fun mix-ins, flavorful toppings, or unique flavor combinations, vanilla ice cream can become even more exciting! Experiment and have fun with different combinations to find your perfect dessert.
Coconut Cake
If you have a sweet tooth, then you must try the classic dessert – Coconut Cake. This creamy treat is known for its rich filling and fluffy texture that's made even better with a topping of sweet coconut flakes. Whether you're looking for a comforting dessert to share with your loved ones or simply looking to satisfy your cravings, the Coconut Cake is perfect for any occasion. Below are the directions for the perfect recipe for the Coconut Cake that you can enjoy.
Sweet and Refreshing Coconut Flavor
Are you looking for a new and exciting ingredient to add to your desserts? Look no further than the sweet and refreshing flavor of coconut! With its unique taste and texture, coconut has become a popular ingredient in many dessert recipes. Its popularity in the American South, where it is a classic ingredient in coconut cake, speaks to its versatility and delicious taste.
Coconut can be used in both cakes and pies, adding a tropical twist to any dessert. Some other desserts that can incorporate coconut include sticky rice, key lime pie, gulab jamun, and even chocolate chip cookies. The possibilities are endless when it comes to using coconut, making it a must-have ingredient in any baker's kitchen.
The benefits of using coconut in desserts go beyond its delicious flavor. It is also a nutritional powerhouse, containing healthy fats and fiber that can keep you feeling full and satisfied. Additionally, coconut is known for its flavor-enhancing properties, meaning that it can take an already delicious dessert to the next level.
When using coconut in your desserts, various forms can be used. A shredded coconut is a popular option, adding a chewy texture and subtle coconut flavor. Coconut milk can be used to add creaminess to a dessert, while coconut oil can be used as a healthier substitute for traditional baking oils.
Tasty Ways to Enhance Your Coconut Cake Recipe
Coconut cake is a classic dessert that many people love. But why settle for a basic cake when you can elevate it to new heights of flavor? With a few simple tweaks and additions, you can turn a simple coconut cake into a delectable masterpiece that will leave your guests begging for the recipe.
One way to enhance the flavor of your coconut cake is to incorporate complementary flavors. Lime or mango can be added to the frosting or cake batter for a tropical twist that complements the coconut perfectly. You can also add different textures like toasted coconut flakes or macadamia nuts into the layers and frosting for an extra crunch.
Another great way to take your coconut cake to the next level is by adding a layer of coconut pastry cream or curd in between the cake layers. This will not only add moisture and flavor but also create a more complex and delicious taste. Drizzling a rum or coconut glaze over the top of the cake will also enhance its flavor and make it even more irresistible.
To complement the flavor of coconut, consider adding ingredients such as lemon, almond, ginger, or even banana. These flavors will enhance the coconut's natural sweetness and create a unique and delicious taste.
Finally, try using different types of cream, such as whipped coconut cream or mascarpone cheese frosting, to take your coconut cake to the next level. These creams have a more complex flavor profile, which will add depth and richness to your cake.
If you want more dessert recipes, the Plummer Family recommend that you check out mrvideoblog now! By mixing recipes with videos, you will be baking like a pro in no time!
Tips for Making a Perfectly Moist Coconut Cake
If you're looking to create a perfectly moist coconut cake that is sure to impress your guests, then it's important to follow a few key tips to achieve the best results possible.
Firstly, be sure to use high-quality ingredients when creating your coconut cake. This means using fresh, high-quality coconut flakes and pure vanilla extract. Using fresh ingredients ensures that your cake will be packed full of flavor and moisture.
Secondly, when making the cake batter, it's important to beat the butter and sugar together until it is light and fluffy, before adding the eggs and dry ingredients. This ensures that the cake is light and airy and results in a moist, fluffy texture that everyone will love.
Thirdly, it's important to alternate adding the dry ingredients and coconut milk to the batter, mixing until just combined. This prevents the batter from becoming over-mixed, which can result in a dry, crumbly cake.
Finally, bake the cake until a toothpick inserted in the center comes out clean, and allow it to cool completely before frosting. This will ensure that the cake retains its moisture and that the frosting sets perfectly.
Brown Sugar Treats
Brown sugar is a favorite ingredient in many delicious desserts. It adds a rich, caramel flavor to baked goods and can be used to add a touch of sweetness to savory dishes as well. In this article, we will explore some of the best brown sugar treats that you can make at home. From classic chocolate chip cookies to decadent layered cakes, these irresistible desserts are sure to satisfy any sweet tooth. So let's get started and discover the world of brown sugar treats.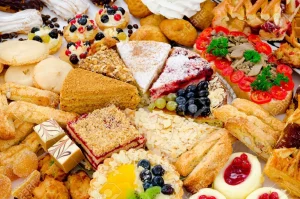 Creative Ways to Use Brown Sugar in Desserts
If you have a sweet tooth, you know that brown sugar can be an essential ingredient in adding depth and complexity to your sweets. Here are some creative ways to use brown sugar in your desserts for a flavor kick:
1. Sprinkle brown sugar on top of any sugar cookie before baking for a delicious, caramelized finish that will add a whole new level of flavor.
2. Add brown sugar to your favorite chocolate chip cookie recipe instead of white sugar for a rich, decadent flavor.
3. Baked apple and pear desserts are perfect for the winter season. Mix brown sugar and cinnamon to fill the core of the fruit before baking for a warm, spiced taste.
4. Crumbles and crisps are one of the easiest desserts to make. Mix oatmeal, cinnamon, and brown sugar as a topping for any fruit filling.
5. Who doesn't love a good caramel sauce? Brown sugar is perfect for making the sauce. Combine brown sugar, heavy cream, and butter for a smooth and indulgent caramel sauce to top your ice cream or any dessert.
Brown sugar is a versatile ingredient that you can use in many ways in your desserts. With its sweet, caramel flavor, it's easy to see why brown sugar is a favorite with bakers and dessert lovers alike. Try these creative ways to use brown sugar to add depth and richness to your next sweet treat.
Rich and Flavorful Brown Sugar Recipes
Brown sugar is a versatile ingredient that can add richness and depth to a variety of desserts. Whether you're making cookies, ice cream, or crumbles, brown sugar can be used in a variety of ways to elevate your desserts. Here are a few brown sugar recipes to try:
1. Chewy Chocolate Chip Cookies: Adding brown sugar to your chocolate chip cookie batter can give your cookies a chewier texture and a caramel flavor. Mix 1 cup of brown sugar with 1/2 cup of white sugar, 2 sticks of softened butter, 2 eggs, and 2 teaspoons of vanilla extract. Add 2 1/4 cups of flour, 1 teaspoon of baking soda, and 1 teaspoon of salt. Mix until combined, then fold in 2 cups of chocolate chips. Drop spoonfuls of dough onto a baking sheet and bake at 350 degrees for 10-12 minutes.
2. Brown Sugar Fruit Crisp: Brown sugar is the perfect ingredient to use in a fruit crisp topping. Mix 1/2 cup of brown sugar with 1/2 cup of flour, 1/2 cup of rolled oats, and 1/2 teaspoon of cinnamon. Cut in 1/2 cup of cold butter until the mixture is crumbly. Place sliced fruit (such as apples, rhubarb, or peaches) in a baking dish and sprinkle the topping over the fruit. Bake at 375 degrees for 30-35 minutes, until the top is golden brown and the fruit is bubbling.
3. Brown Sugar Homemade Ice Cream: Brown sugar can also be used to give your homemade ice cream a hint of molasses flavor. Mix 2 cups of heavy cream, 1 cup of whole milk, 3/4 cup of brown sugar, and a pinch of salt in a saucepan. Heat the mixture over medium heat until it starts to steam, then remove from heat. In a separate bowl, whisk 4 egg yolks until they're pale and frothy. Slowly pour in the warm cream mixture, whisking constantly. Return the mixture to the saucepan and cook over low heat, stirring constantly, until it thickens and coats the back of a spoon. Strain the mixture through a fine-mesh sieve and chill for at least 4 hours, then freeze in an ice cream maker according to the manufacturer's instructions.
4. Brown Sugar Streusel Topping: Brown sugar makes a delicious streusel topping for cakes or muffins. Mix 1/2 cup of brown sugar with 1/2 cup of flour, 1/4 cup of melted butter, and 1/2 teaspoon of cinnamon and nutmeg. Sprinkle the mixture over the top of your baked goods before baking. The streusel will become crunchy and caramelized in the oven, adding a delicious layer of flavor and texture.
These are just a few examples of how you can incorporate brown sugar into your desserts for added richness and flavor. Experiment with different recipes and techniques, and you're sure to find your new favorite brown sugar dessert!
Delightful Brown Sugar and Nut Combinations
If you're looking for a way to take your dessert game to the next level, consider incorporating brown sugar and nut combinations into your next recipe. Brown sugar's warm and rich flavor pairs perfectly with a variety of nuts, including pecans, walnuts, almonds, hazelnuts, and cashews.
These brown sugar and nut combinations can be used in a variety of desserts, including brownies, cakes, pies, and muffins. One great way to incorporate this delicious duo into your baked goods is by using them in a streusel topping. Simply mix 1/2 cup of brown sugar, 1/2 cup of chopped nuts (try pecans or walnuts for a classic combo), 1/2 cup of all-purpose flour, and 1/4 cup of softened butter until crumbly. Then sprinkle it over the top of your dessert before baking.
Another idea is to add brown sugar and nuts to your favorite muffin recipe. Start by toasting your nuts in the oven for a few minutes to enhance their natural flavors. Then mix 1/2 cup of brown sugar, 1/2 cup of chopped nuts (try almonds or hazelnuts for a twist), 2 cups of all-purpose flour, 1 tablespoon of baking powder, and 1/2 teaspoon of salt. In a separate bowl, whisk together 1/2 cup of softened butter, 1 cup of milk, and 2 beaten eggs. Combine the wet and dry ingredients, then fill greased muffin cups 2/3 full and bake at 400 degrees Fahrenheit for 15-20 minutes.
No matter how you decide to use brown sugar and nuts in your desserts, be sure to toast your nuts beforehand to bring out their full flavor potential. With these scrumptious combinations, your desserts are sure to be the talk of the town.
Conclusion
In conclusion, these brown sugar and nut combinations are a great addition to any dessert lover's recipe book. From streusel toppings to muffin mix-ins, the possibilities for incorporating these flavors into your baked goods are endless. Desserts hold a special place in our daily lives, bringing joy and excitement to even the most mundane routines. Experimenting with new flavors and trying out different recipes can add a whole new level of enjoyment to this indulgent treat.